Are you looking to drive app downloads? Get in line. Most app developers and marketers are looking for the same thing.
With over two million apps in the App Store and Google Play, the competition is fierce. So how do you increase app downloads and stand out from the crowd to get those numbers up?
Well, there's no surefire answer. But we can give you some tips and tricks that might help!
Take note of these simple strategies:
1. Come Up with an Interesting Name
First things first, you need to have an interesting and attention-grabbing app name. After all, this is what people will see first when they come across your app.
Think of a unique name, but also relevant to your app's purpose. And make sure it's easy to remember and spell. You don't want potential users getting frustrated. After all, they can't find your app because they can't remember how to spell it.
Some apps, such as Uber, were derived from a German word that means "above." And it's quite relevant to its transportation purposes. This could give you some inspiration or perspective on how to come up with an exciting name for your app.
2. Create an Attractive App Icon
Your app icon is the first thing users will see when they come across your app. So it would be best if you made a good impression with it.
Create a simple yet easily recognizable icon that can catch the eye of a potential user. Again, it should be relevant to the app's purpose. For example, if your app is a game, your icon could be the face of your protagonist.
Apps such as Airbnb and Pinterest have easily recognizable icons. And these are just a few examples of how you can create an attractive app icon.

3. Use App Store Optimization (ASO)
You've probably heard of SEO, or "search engine optimization." ASO is its counterpart for the app stores. Just like SEO, ASO is the process of optimizing your app's page in the store to improve its app store visibility in the search results and drive more downloads.
With app store optimization, you get higher chances of reaching more users. Forester has found in a study that 63% of all app discoveries on iOS and 58% on Android are made through the app store search page.
There are two main ways to optimize your app page:
On-metadata optimization
This refers to optimizing your app's name, subtitle, icons, and descriptions.
Off-metadata optimization
This refers to everything else that can be optimized on your app page, such as reviews, ratings, and screenshots.
If you want to rank for the keyword "fitness tracker," compare your app with other fitness tracker apps. You can also test keywords to see if people are still searching for them or if they are relevant to your product or website.
Tools are also readily available, so you can track your keyword rankings and compare them against your competitors. These will give you an idea of where you stand and what needs to be improved.

4. Write a Compelling App Description
Your app's title is what will get people interested, but it's your app description that will make them download it.
Encourage users by being creative with it and highlighting the features that make your app stand out. Use words such as "easy," "fast," and "free" to attract users. And don't forget to apply the ranking keywords you discovered through your ASO research!
Use these keywords throughout your description, but don't just stuff them in there. Remember that you still need to attract users, so keep it short and sweet. Get to the point and tell your potential users what your app can do for them.
5. Make Your App Page Attractive
Aside from your app's description, your app interface needs to be visually appealing. This is where users should find a preview video and properly designed screenshots.
When potential app users stumble upon your app, you want to make sure that the page looks appealing and convincing enough for them to hit the "download" button.
It's like a sales pitch, so make sure that it sells. Make sure that your page has the following:
high-quality screenshots of your app's user interface
a demo video
positive reviews and ratings
An appealing page interface can also increase the likelihood of someone downloading your app. So make sure that it has all the relevant content and that it's easy to navigate.
6. Take Advantage of Social Media
Social media should be part of your marketing techniques regardless of what business you're in. It's a powerful platform that can help you reach a larger audience and promote your app.
Aside from Facebook, Twitter, and Instagram, your mobile app marketing strategy should use other social media platforms to increase app downloads. Here are some tips on how you can do that:
Choose the right platform
Not all platforms are created equal. Each one has a different audience, so you need to choose the most relevant platform for your app. For instance, a game app is suitable to market on Twitch and Youtube Gaming, while a productivity app is suitable on LinkedIn.
Create shareable content
Your social media posts should be eye-catching and interesting enough for people to want to share them. Use attractive visuals, such as infographics, images, and videos.
Reach out to influencers
Influencers have a large following, and their endorsement can help increase your app downloads. Find relevant influencers in your industry and reach out to them to see if they're interested in promoting your app. If so, make sure they use hashtags and create engaging content encouraging people to download your app.
7. Reach Your Target Audience with App Localization
Both the Google Play Store and Apple's app store are global markets. This means that your app needs to be visible to users in different countries if you want to increase app downloads.
The best way to do this is by localizing your app. App localization is a complex process because it involves making your app available in different languages and adapting it to specific cultures.
For instance, if you want more visibility in the Chinese market, you need to optimize your app for Chinese search engines. You also need to use Chinese characters and images that are relevant to Chinese culture.
Once your app shows that it's available in different languages, it leads the app store algorithm to believe that your app is relevant to users in different countries, which will help you rank higher and get more downloads.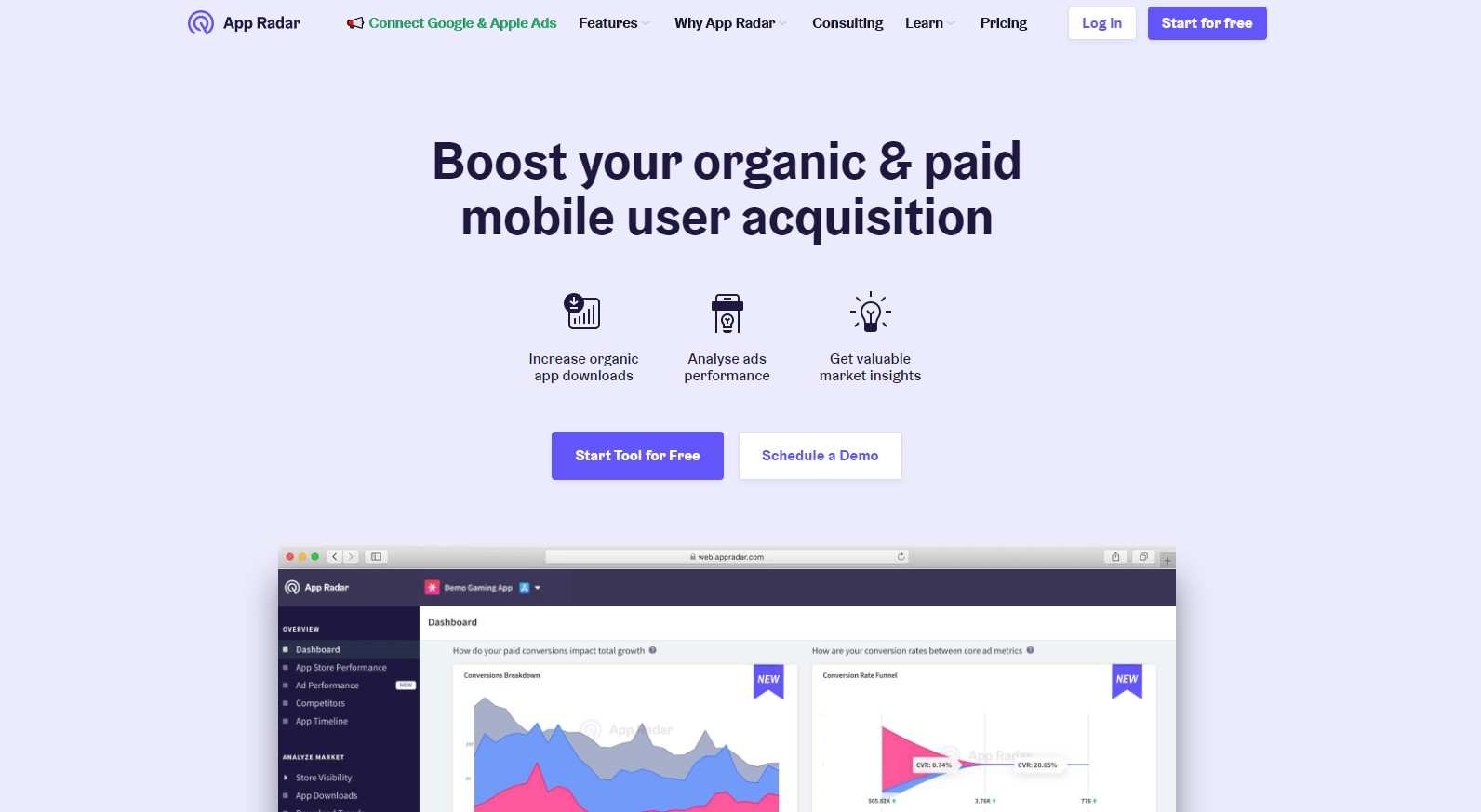 We recommend using a tool like App Radar to automate and streamline this process. App Radar's platform can help you quickly translate your app listing, screenshots, and videos into different languages.
8. Drive App Downloads with Sponsor Ads
Ads on app stores appear at the top of a search result, allowing you to jump to the front of the line and effectively get more app downloads.
You can use this to your advantage to target users who are looking for apps similar to yours. Keep in mind, however, that ads can be expensive. With two major app store platforms, you have to know how to properly allocate your budget to get the most out of your investment.
Here's the difference between the two:
On Google Play Store
Ads on the Google Play Store work differently than those on other platforms. It allows you to specifically target your audience and get your app in front of them when they're searching for something related.
The good thing about Google Play Store ads is that you only pay when someone clicks on your ad. This makes it a cost-effective way to get more app downloads.
On Apple App Store
Apple's App Store uses a different algorithm for its ads, which makes it more difficult to target your audience. However, you can still use keywords to jump to a high app ranking.
The downside to Apple App Store ads is that you have to pay every time your ad is shown, regardless of whether someone clicks on it or not. This makes it a more expensive option, but it could still be worth it if you have the budget for it.
8. Create a Website
You might wonder how having a website can increase mobile app downloads. It's simple: it gives you a place to drive traffic from your marketing efforts.
Mobile app downloads can also be generated can also be increased by creating a website for your app. This is an effective digital marketing technique, especially if you don't have the budget for ads.
With a website, you can perform several content marketing techniques that you can't do with ads. Here you can provide more information about your app, such as how your app works and how it can benefit users.
You can also use your app's landing page to drive traffic to your social media channels or run ads. Don't forget to include a QR code or your app store page link on your website for easy app installs!
9. Get Reviews
Just like you, users tend to check reviews and articles before downloading an app. It's what they call social proof phenomenon.
Good reviews with 5-star ratings influence your app store ranking as well. An app reviewed by many users changes the algorithm, making it much easier for new users to find you.
To encourage user reviews, here are a few ways you can do:
Get featured in articles
There's a community of app marketers always looking for new apps to write about. Getting featured in one of these articles exposes your app to a new audience!
In-app messages
You can use in-app prompts to remind existing users to leave a review. A general rule of thumb for pop-ups is that they should only show after the app has been used three times.
Give points or incentives
Encourage more users to leave reviews by giving them points or other incentives that they can use in your app. Just make sure that the rewards are not too tempting, or you'll end up with a lot of fake reviews.
Offer referral points
It's easy to increase downloads by offering referral points. When a user refers your app to a friend, they get some reward, like extra points or in-app currency. These in-app referrals encourage users to talk about your app, which leads to more downloads.
10. Consider the Freemium Approach
Everyone loves free apps, but sometimes, you need to offer more than that. This is where the freemium model comes in.
With this approach, you offer a basic version of your app for free and offer in-app purchase options for users who want to upgrade. This could be anything from ad removal to premium features.
The beauty of the freemium model is that it allows you to generate income from users who are not willing to pay for your app upfront. It also entices users to try out your app before they commit to a purchase.
Let's Build Your Mobile App!
Mobile apps today are essential for businesses of all sizes. And trust us; you don't want to get left behind in this day and age of smartphones!
If you're thinking about building a business app, we're the ones to reach!
At StarTechUP, we specialize in custom mobile app development. You can talk to our app developer about your business needs, and we'll work with you to create a custom solution.
So what are you waiting for?
Book a free consultation with us today!