Digital banking, increased use of blockchain, and new financial regulations are just some of what you can expect in financial technology (FinTech) trends this 2023.
The future of finance is looking more innovative and convenient for consumers. With new and cutting-edge developments, now is the time to buckle up and ride the waves of the FinTech industry.
So, without further ado, here are ten important FinTech trends that you shouldn't miss out on in 2023:
1. Digital Banking for Everyone
The middle-class population in Spain is leading the way in adopting digital banking. The number of online bank customers increased from 10% to 15% between 2018 and 2020, representing a growth of 44%!
The growing demand for convenient, accessible, and secure financial services is driving the trend toward online banking. It's why young consumers are choosing it over traditional banks.
In 2023, it's safe to expect the number of account registrations in these digital banks. With no account fees and monthly balance minimums, these banks provide attractive features to young people.
Popular digital-only banks are WeBank in China. Ally Bank, ING Bank Global in the United States, and Nubank in Brazil. Along with other banks today, they strive to make their services accessible as possible.
Even with all these digital-only banks rising above the rest, you can create competitive FinTech apps in the fast-changing industry. With the right mobile app development, you can identify the gaps, integrate new technologies, and create innovative solutions that can give users a convenient way to manage their money!
Contact StarTechUP for your financial technology app project.
2. RegTech Solutions
Given the digital era, it's only natural that regulators are scrutinizing FinTech companies to guarantee they operate with safety and security. The compliance process is a critical aspect of this. Basically, it refers to the steps a company must take to ensure that it adheres to relevant laws and regulations.
This is where Regulation technology (RegTech) enters the picture.
RegTech offers automated solutions for compliance. With the use of cloud technology, machine learning development, and data analytics, RegTech solutions will be populating the industry in 2023. And this is a fintech trend that you don't want to miss out on.
As one of the heavily regulated industries, companies in finance should take advantage of this. These are designed to identify any potential legal risks, enabling companies to operate safely and efficiently. More than that, it provides improved efficiency and greater accuracy.
Start investing in these solutions today to ensure regulatory compliance and gain peace of mind. Not only this, but it will also streamline your operations, allowing your staff to allocate their time toward other important projects.
To find the perfect RegTech solutions for your business, consider following these tips:
Assess your regulatory requirements to identify the areas where RegTech solutions can have the biggest impact.
Research and compare RegTech solutions that are specifically designed to address your compliance challenges and ensure compatibility with existing systems.
Consider the ease of integration with existing systems and processes to minimize costs and disruptions.
Evaluate the vendor's reputation and track record to ensure a commitment to customer service and support.
Request a demo of the solution to understand its capabilities and limitations better and determine if it's a good fit.
Look for scalability to minimize the costs and disruptions of upgrading in the future as your business grows and evolves.
3. Passwordless Authentication to Combat Cyberattacks
Banking institutions are always a target of ransomware and phishing attacks. This is no surprise. What customers want to know is the actions they do to ensure that their data and funds are secure.
In the first quarter of 2021, UpGuard reported that 25% of phishing attacks happened to financial institutions. With the rise of AI and machine learning, these cybercriminals use deep fake tactics to mimic bank executives to have money transferred to certain bank accounts. Hence, this is a call for banks to invest in the latest security solutions to protect their customers.
One of the most effective tools that IT leaders are pushing for is passwordless authentication. In 2023 and beyond, we will see the financial industry adapting this technology to protect its customers from malicious attacks.
But how does it work?
Passwordless authentication removes the traditional username/password form of login and replaces it with sending users a push notification that provides an authentication code. This code is only valid for one time and can be used to confirm payment processing or log in to an account.
Another method of passwordless authentication is biometric technology, wherein a user signs in using their fingerprint or face. It has been around since 2015, and it's an effective extra layer of security that can help keep customer data safe.
One of the emerging biometric technology this year is voiceprint. As the name says, it uses the voice of the user to confirm one's identity. It works by recognizing the unique characteristics of a person's voice, including pitch, cadence, and speed.
Voiceprint is one of the top fintech trends that you should ignore. It helped reduced fraudulent account takeovers in the First National Bank of Omaha. By implementing Pindrop, a voiceprint platform, they've saved time and avoided attacks in just a year!
This year, stay caught up with security. It's an investment that you should prioritize because hackers find new ways to exploit vulnerable systems. Start considering passwordless authentication solutions as a form of protection for your customers in 2023.
4. FinTech Companies Initiating Businesses to Go Green
Blockchain is just one sector that is doing green initiatives to combat climate change. The FinTech industry is also doing environmentally-sustainable practices by assisting businesses in integrating donation initiatives into their operations. And in 2023, this will become a common occurrence in the industry.
Stripe is a prime example of a financial sector corporation investing in sustainability. In 2021, the company launched Stripe Climate globally, adding it as a feature to its payment processing software. Businesses using the Stripe platform have the option to allocate a portion of their revenue toward carbon removal initiatives.
In the same year, Mastercard introduced a Carbon Calculator tool for the banking industry globally. It provides people with information and insights about their carbon footprint and gives banks the ability to offer ways for consumers to contribute to reforestation through informed spending decisions.
For this year, we can expect more Green FinTech companies that will populate the industry to achieve a carbon-neutral global economy. These initiatives will not only help protect our environment but also create a better future for the generations to come.
If you want to start your own, look for developers who can assist you in incorporating these practices into your business. In the end, it's an investment worth making and one that will help our planet to a great extent in the long term.
5. BNPL
Buy Now, Pay Later (BNPL) is a short-term financing option that lets you defer payment for products or services until a later date. Unlike traditional financing, BNPL often comes without interest, making it an attractive option for many.
With point-of-sale installment loans, customers make a partial payment at the time of purchase and pay the remaining balance later on. Industry experts predict a surge in popularity for BNPL in making financial transactions this 2023, and big players in the fintech world are already jumping on this trend.
According to a BNPL user habits survey conducted by C + R Research in 2021, the top reason consumers prefer BNPL is the ease of payments. Other market trends contributing to the popularity of BNPL are flexibility, lower interest rates, and an easy approval process.
What does this mean for the financial industry? BNPL has the potential to shake things up in the financial sector.
For consumers, it's a cool alternative to loans in traditional banks that might have sky-high interest rates or tough approval standards.
For merchants, it could mean more sales by attracting shoppers who want the option to pay later or pay in multiple installments.
For financial companies, BNPL is a notably growing sector that can be both a challenge and a chance. On the one hand, it might compete with their usual loan products, but on the other, it could bring in new business opportunities for those who find ways to make it work for them.
All in all, this payment option enables purchasers to take more control over their financial decisions and offers businesses a chance to offer value-added services. If you run an eCommerce site, BNPL might be the perfect asset to add to your services.
6. Embedded Finance
Embedded finance is another exciting development in the FinTech industry. It involves integrating financial services into non-financial websites and applications, driven by consumer demand for convenience.
With embedded finance, consumers no longer need to go to a bank and spend time on paperwork to access credit. Instead, they can obtain financing within the platform they are already using, making the process more convenient and efficient.
An additional advantage of embedded payments is that consumers don't need to re-enter their payment information for every single purchase; the details are already saved. This not only makes shopping easier but also more secure and efficient.
The embedded finance market is expected to see significant growth in 2023, and early adopters stand to reap the benefits. The most common example of embedded finance at the moment is the ability to make payments through a digital wallet.
Being an eCommerce merchant, for instance, you have the opportunity to create a smooth and user-friendly experience for your customers. It will drive repeat business and help you stand out from the competition. By providing a seamless and convenient customer journey, you can foster a positive and memorable experience for your customers.
In short, by embracing this trend early on, companies can provide a convenient and innovative experience for their customers and gain a competitive advantage!
7. AI Becomes in demand in the Financial Industry
Artificial Intelligence (AI) is the number one technology in the world today. So, it won't be long until makes its mark in FinTech. In 2023, many financial institutions will adopt this technology in how they operate.
With all the financial data that banks handle, AI can work with unstructured data sets from different sources to identify discrepancies and other patterns, which can help financial services detect fraudulent activity early on.
AI development can be used in the front end of financial services as well. For example, it can be used to provide interactive chatbots, automated customer service, and targeted product recommendations.
Robotic Process Automation (RPA) solutions also harness artificial intelligence to automate middle-office tasks, freeing up employees to focus on more strategic work. AI algorithms make RPA bots more flexible and adaptable to changing circumstances, enabling them to perform tasks with greater speed and accuracy.
This year is a great time to take advantage of AI as the FinTech industry continues to handle millions of data every day. If you want to deliver an enhanced user experience and drive operational efficiency, you should consider investing in AI.
Be picky in choosing a software development company that can build AI-powered apps. You want a team that has the experience and expertise to deliver high-quality FinTech solutions that can meet your specific needs.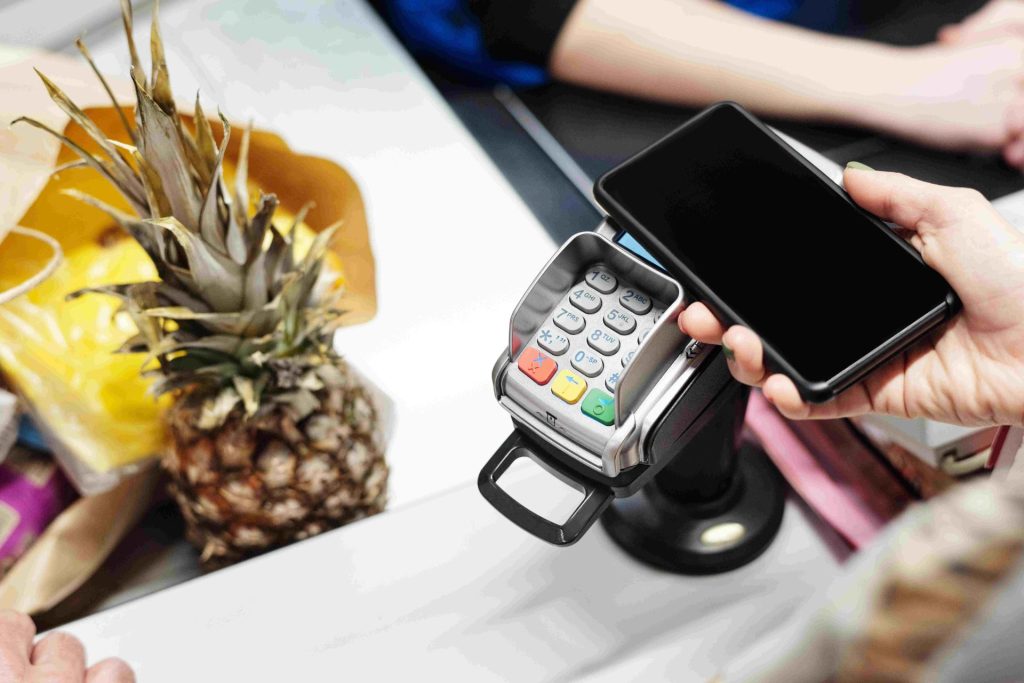 8. Mobile Payments are still on the Rise
Contactless payment never left the list of top FinTech trends as more and more people become comfortable with making payments from their mobile phones. In 2023, anticipate that more and more customers will use no-touch payments.
Near Field Communication (NFC) technology has revolutionized contactless payments by allowing customers to rapidly and securely make transactions with a simple tap of their phones. But another breakthrough is on the horizon: wearable payments!
The growth of the wearable payments market is driven by technological innovations like Host Card Emulation (HCE). With HCE, customers have even more convenience as they can purchase goods without taking out their phones or wallet. This is because HCE allows wearables to mimic a card on NFC-enabled devices without accessing authentication functions.
The QR code payment market is another thing you should monitor, as it's set to be worth $3 trillion by 2025, according to Juniper Research. This is no surprise as this method is easy to adopt and use, reduces the cost of accepting payments, and is more convenient for customers.
Apart from QR code payments, mobile wallets are expected to make waves in the fintech market this year. Mobile wallet services make it easier to store digital payment information securely, making payments more convenient and secure.
Companies should capitalize on these market trends by offering their customers different ways to make payments quickly and securely, such as NFC and QR code payments.
If you have plans to enter this industry, consider investing in a reliable and secure payment processing platform. Doing so will ensure that your customers can use their favorite payment methods without any hassle.
9. Peer-to-Peer Loans
Peer-to-peer (P2P) lending is one of the popular lending forms in the alternative finance sector that you will see more of this year and beyond. But how does it work exactly?
P2P lending is a form of alternative lending that connects borrowers and investors directly through a third-party online platform. It eliminates the need for traditional banks as intermediaries and reduces costs, offering more cost-effective lending solutions. This type of alternative lending involves three parties: a borrower, an investor, and the online platform facilitating the interaction between them.
For instance, Capitalise, a UK-based P2P lending provider, connects business owners with lenders to provide funds for various purposes such as purchasing new locations, expanding staff, and so on.
This alternative lending method serves both the consumer and business markets. Many small and medium-sized enterprises and startups are driving the demand in the FinTech space. In no time, the P2P lending market has grown from a niche to become one of the mainstream and preferred forms of financing.
In 2023, the alternative financing sector is expected to see growth with an anticipated CAGR of 6.3% from 2022 to 2028. That's right. It's time to jump on board and join the movement toward more cost-effective and convenient financing options for startups and existing companies alike. Take advantage of this exciting chance to revolutionize your financing strategy!
10. Adopting Blockchain Technologies Worldwide
Despite the crypto market crash, investors remain catching up with blockchain innovations. In 2023, blockchain-based products are expected to be widely adopted and integrated into the existing traditional systems.
Blockchain technology offers increased security, reduces the costs of doing business, and provides a platform for greater transparency to businesses of all sizes. It also offers a platform for developing decentralized applications, which are gaining traction in many areas of finance and other industries.
In short, it has the potential to revolutionize the way financial transactions worldwide are conducted.
According to a 2021 Global Blockchain Survey conducted by Deloitte, an overwhelming 76% of participants foresee digital assets replacing fiat currency in the next decade.
At present, fintech startups globally use this technology and are focusing heavily on tracking and tracing products and services. Additionally, there are several other crucial areas where blockchain is being applied, such as in payments and financial services, contracts and dispute resolution, and identity management.
One thing is for sure: the FinTech industry is quickly adapting to the blockchain market. Investors to increase the reach of blockchain services is, of course, easily matched by the ever-increasing adopters of blockchain wallets.
If you want to stay competitive and continue to innovate, invest in new solutions that harness the potential of blockchain. With continued adoption and innovation, the FinTech industry is sure to experience tremendous growth in 2023 and beyond.
SaaS Solutions for Better Banking and Customer Experience
Investing in emerging technologies will be key to surviving in the ever-changing financial landscape. Software-as-a-service (SaaS) solutions are increasingly being used by financial institutions to improve customer experience, reduce costs, and increase efficiency.
SaaS solutions are quickly gaining traction in the banking industry due to their flexibility, easy integration, and cost efficiency. These solutions are helping financial institutions to understand customer needs better and offer a more personalized service.
At StarTechUP, we provide innovative SaaS solutions to financial institutions to improve customer experience and stay ahead of the competition. With our integrated solutions, you can provide faster and more efficient services to your customers.
If you want to gain an edge in the 2023 FinTech industry, invest in our SaaS solutions!
Book a FREE consultation with us today!