With the rising popularity of technology, you can typically anticipate spending anything from $1,000 to $200,000 on a mobile app development project. So, how will you know where your app development costs fall in that range? You have two options: use a free cost calculator app online or get an accurate estimate from a mobile app development company.
An online app development cost calculator is a crowd's favorite since it already gives you a quick estimation of your dream app. The latter, however, can give you a specific cost breakdown based on the specifics of your app.
Here, we'll walk you through everything you need to know about these cost apps!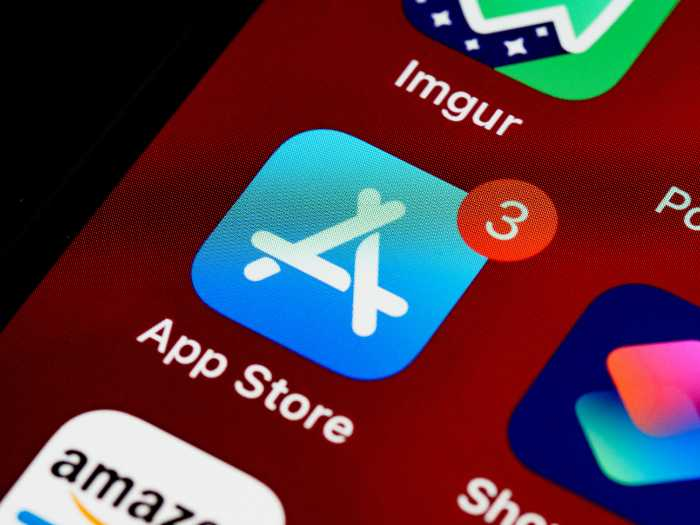 Benefits of Using an App Calculators to Get Mobile App Development Costs
With so many variables, developing mobile applications can be tricky. But luckily, cost calculator apps can give you a pretty good estimate.
Here are 5 benefits of using one of these apps for your next project:
1. You'll save time
Trying to estimate the mobile app development cost on your own can be very time-consuming. With different factors, it can be tough to know where to start. You can avoid those headaches with cost calculator apps. All you need to do is input some basic features about your project, and you'll get an estimate in just a few minutes!
2. Covers all the app features
When you try to estimate the cost of your mobile app project on your own, there's always the chance that you might forget to include something important. Don't worry about forgetting ML-powered app features when estimating costs when you use app cost calculators. Experts have designed them, so everything that needs to be included in your app development project is in there.

3. Use it to compare estimates
If you're unsure which app development company to use for your project, a rough estimate from cost calculators can be very helpful in making your decision. You can use them to get an estimate from different companies and compare them side-by-side. This way, you can see which company offers the best value for your project!
4. Negotiate with proof
Once you've got an estimate from several cost calculator apps, you can use it as leverage in negotiations with app development companies. If one company tries to charge you more than the calculator says your project should cost, you can use the estimate to negotiate a lower price.
5. It's Free!
Another great benefit of using this online app calculator is that they're usually free! So there's really nothing to lose by trying one out for your next minimum viable product project.
7 Factors that Affect Mobile App Development Cost
Creating your very own mobile application is definitely an exciting process, but there are a few things you'll need to take into account if you want to know about its cost.
If you're not yet ready to tackle the cost and technicalities of your app design yet, no problem! We'll ease you into the app development process:
1. Your app Idea
Validating an app idea may seem daunting, but we're here to help. Follow these steps:
Research, research, research
Researching will help determine how your app will work, how competitive it will be, and what makes it stand out. You can begin by listing keywords that describe it to see the competition. Check user reviews and note what they suggest for improving the existing ones. Use that as your edge, whether adding QR code scanning or improving app design.

Build a Prototype
Like all apps, it should have a base form first. With an offline mode prototype, you can better understand your idea. Not only will this help you how to market your mobile app to potential partners or developers, but it will also help you get feedback from other users or usability test participants who might be interested in using it.
Create a Development Plan
A development plan may help you understand the final cost and time required to bring your app to life. Be sure to include a clear strategy for development, technologies used, and maintenance. The plan should also address potential risks and opportunities that could impact the app's success.
2. App Features You Want to Include
Many people only think about how their app will look, but it's more important to have a clear idea of which features you want first. This will help determine the user interface and complexity of your project. Some typical features are:
GPS or location-based services
One of the most popular features in mobile apps today is GPS services. They are helpful for various purposes, such as tracking user location, providing directions, or finding nearby businesses.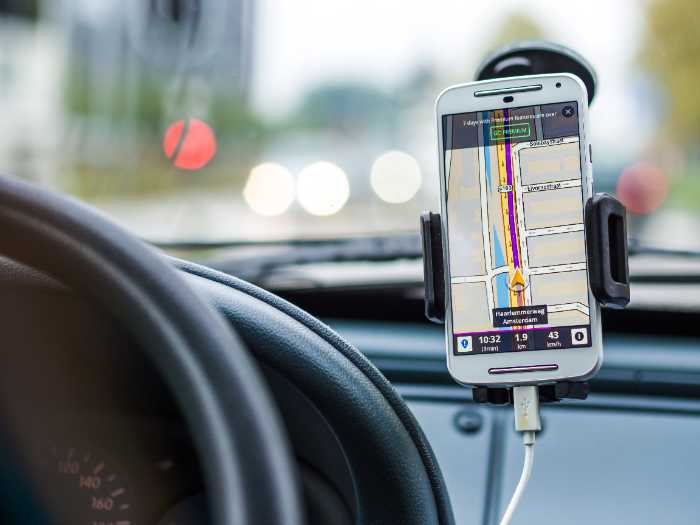 Push notifications
Push notifications are a great way to keep users updated on your app's latest news and happenings. They can also drive traffic to specific parts of your app, such as promoting products or services. Having this, you can keep a more engaged user base by constantly informing and driving them into using it often.
User login and two-factor authentication
Having a user login and authentication feature in your app ensures clients that you adhere to privacy policies and store data safely. It's also helpful if you integrate QR codes for easy log-ins or if you want to keep track of what people are doing on your app to improve the user experience further.
Social media integration
Aside from having security measures in place, integrating social media into your app could increase your brand's visibility and make it easier for customers to find and interact with you. It also helps improve customer loyalty by providing an activity feed for customers to keep up with your brand's latest news and promotions.
Live chat or SMS messaging functionality
If you're looking for ways to improve customer communication and loyalty, consider adding a live chat or messaging feature within your mobile app. It's a convenient way for your clients to communicate with you directly and get answers to their questions quickly in one efficient interaction.
Tip: Add multi-language support to cater to your international users.
3. The Type of Your App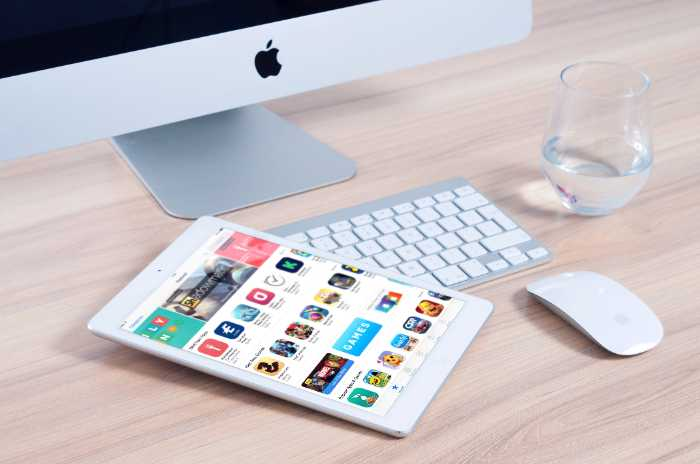 There are three main types of mobile apps: native, web, and hybrid. You should understand each one because each type impacts your mobile app development costs and project timeline. Here is what you need to know:
Native App
A native app is a smartphone application developed specifically for a particular platform, such as iOS or Android. These are written in the native language of the platform they're being built for, which allows them to take advantage of all the device's features. They also tend to provide a better user experience since they're designed specifically for each type of device.
Progressive Web App (PWA)
Contrary to popular belief, a web application is not an actual application. Instead, they are web applications that resemble native applications in some ways but are not implemented as such. A browser will run the progressive web apps, typically coded in HTML5. Web apps are popular because they are less expensive and time-consuming to develop than native apps.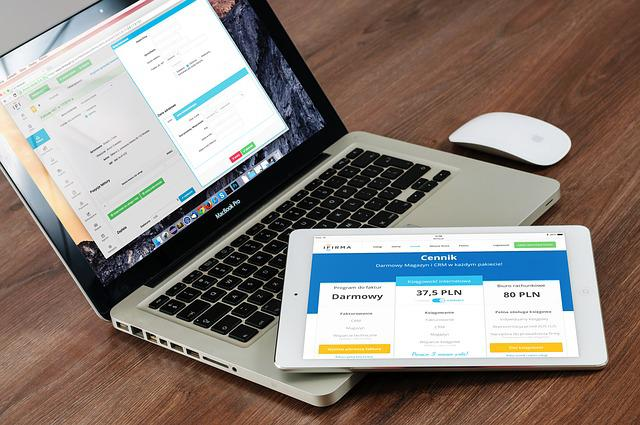 Hybrid App
Most complex projects are developed using native and web technologies and hybrid app frameworks. Like a web application, it is developed using HTML, CSS, and JavaScript and then wrapped in a hybrid framework container. This allows them to be installed like a native app on mobile devices and leverage web technologies to build the interfaces.
The advantage of hybrid app development is that it's a cost-effective way to develop an app that has a flexible user interface because it can be used on multiple types of devices. That's because you only need to build one version of the application that can be installed on any type of device.
4. The App Platform it Supports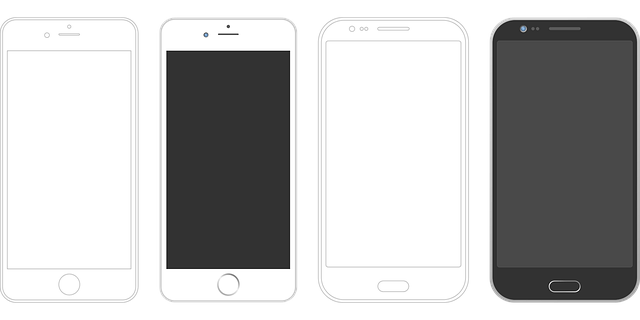 Another important consideration when planning your app development cost is the platform you want it to support. The most dominant platforms for mobile apps are iOS and Android. Here's the difference between the two:
Apple iOS
Being the operating system that powers iPhones and iPads, iOS is a popular platform for app development because it offers many benefits for users and businesses. An iOS app, for example, is of higher quality than its Android counterpart. This is because Apple has more stringent App Store standards that developers must follow to have their apps on the platform.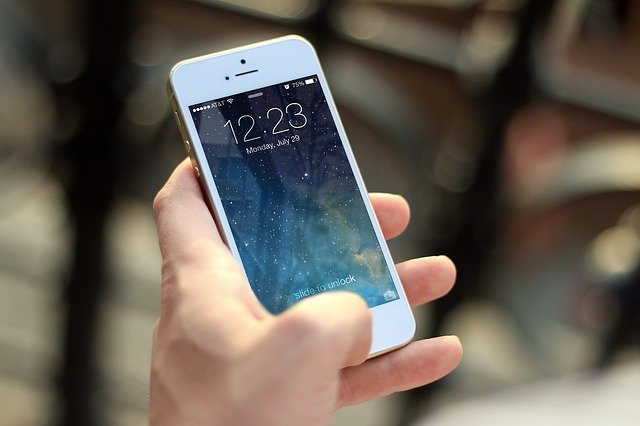 iOS apps also have the advantage of using Apple's latest technologies and features, such as ARKit and Face ID. These features can give your app an edge over the competition and make it more appealing to users.
Android
With over 2 billion active users, Android is the most popular mobile operating system in the world that powers various devices, including smartphones, tablets, and wearables. If your business wants to reach as many people as possible, consider developing your app for Android. The cost of Android app development is also typically lower than for iOS apps.
Android offers various customization options and unavailable features on other platforms. This allows businesses to create an app design that truly stands out from the competition. Additionally, there are more Android users than any other type of smartphone user, so your app has a larger potential audience.
5. The App Development Company You'll Hire

An app development cost calculator also estimates the cost of hiring developers to make your app. Usually, partnering with an agency will ensure your vision is successfully executed. Top-of-the-line mobile app development firms may have you spending at least $500,000 on the project or high hourly rates.
Whether you want to build an Android or iOS app, here are some options you can do:
Do-It-Yourself (DIY)
Believe it or not, you can DIY your dream apps! Template designs for mobile apps are cookie-cutter design frameworks that require minimal IT and development skills to implement. You can build a Minimum Viable Product (MVP) app with this type of template without spending too much money or time.
While building an app by yourself can be cost-effective, you will have to sacrifice premium features and its security level. DIY apps often have bugs and glitches because they're not developed in encrypted containers.
Offshore
There are many benefits to outsourcing mobile app development. Cost savings and access to the global pool of talented developers are the most obvious ones. By working with a reputable outsourcing company in a region where labor cost is lower, you can save significant money on development.
The app development cost can vary depending on the region you are located in. In North America, Western Europe, and Australia, hourly rates can cost up to $250. In Eastern Europe, expect a $30-$110 hourly rate. The cheapest rates are in South Asia, East Asia, and Africa, costing around $20-40 per hour.
Nearshore
Nearshore teams often have more experience developing mobile apps, leading to faster turnaround times and better results. It's also not hard to negotiable a low app development cost breakdown. They are often more cost-effective partly because they typically charge less for their services but also due to lower living costs in countries like India and Ukraine.
Many businesses find it challenging to find and hire an in-house app project manager, unlike when you have a nearshore team. You'll work with experienced professionals who can start your app development project without breaking the bank.
Local Developer
When you work with a local developer, you're getting someone who understands the unique challenges and opportunities of app development in your area. You can take advantage of their local network and get insights into the community that can inform your app development process.
They offer tailored app features to meet the specific needs of your local users at a low hourly rate! Plus, they're more likely to be up-to-date on the latest trends and technologies in app development, so you can be sure your app will be as cutting-edge as possible.
First-grade Agency
There are pros and cons to working with a first-grade agency. On the plus side, these agencies have a lot of experience and expertise in mobile applications, so they can meet your desired level of quality. They also have a wealth of resources and connections, which can help get your app off the ground.
The downside, however, is the cost. These agencies typically charge more than smaller or less experienced firms. Additionally, their timelines can be longer than what you might be used to, so it's essential to factor that in when making your decision.
6. App Project Development Team
Designing and developing a successful app requires a team of highly skilled individuals with wide expertise. From having an AI development expert to a scrum master, you want to make sure that all the cogs in your wheel are functioning optimally. The exact composition of the team will depend on the project's specific needs, but certain roles are essential for any app development team.
Here are the typical roles that you need to fill in: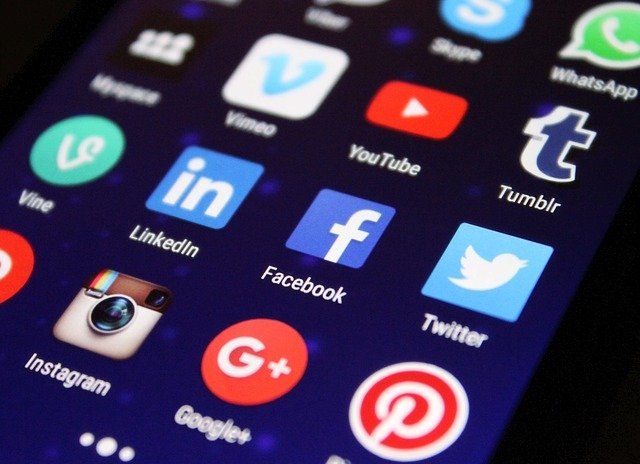 Project Manager
The project manager is responsible for assembling the team, setting deadlines, and keeping everyone on track. They are the ones who oversee the entire project and ensure that it is completed on time and within budget. In short, they are your contact person to keep you in the loop about your app's progress.
UI/UX Designer
App design can be a tricky process. Many mobile application development teams make the mistake of rushing into implementation without carefully planning out all of the screens, interfaces, and interactions users will have on their app. An experienced UI/UX designer can assist you in avoiding this pitfall.
Front-end Developer
Along with getting a UI/UX designer, hiring a front-end developer ensures that your app design is functional. The visual component of the application must be programmed, and it's preferable if your front-end developer has a good understanding of UX and UI design fundamentals.
Back-end Developer
The backend of an app is where the server, application, and database development are created. It's a development process of organizing and storing data and ensuring that all content on the client side of the app runs smoothly. In other words, they create code that communicates database information for an application to work.
Quality Assurance Engineer
Another factor that affects a mobile app development cost is quality assurance. QA engineers are responsible for testing the app for bugs and glitches and ensuring that it meets the standards set by the developer. It's generally a good idea to budget for at least 10% of the total development cost for QA to ensure that your app is ready for launch and that users will have a positive experience using it.
Monitoring and maintenance support
As mobile devices become increasingly prevalent, ensure that your apps are well-monitored and maintained. This means tracking data points such as crash reporting, freezes, and errors and promptly addressing the issues. Having mobile app support in your team outweighs the costs of only fixing it when it crashes.
7. Project Timeline
Aside from costs, using an app cost calculator can also estimate your the timeline of your app project. In any case, it is crucial to consider this when deciding how to develop an app.

Here are the stages of app development that you can expect in your timeline:
1. Pre-development
Developing a clear idea of what the app should do, assembling the right team to build it, and creating a detailed plan are all critical steps in the pre-development stage of app development. They will ultimately determine whether or not the finished product is successful. By carefully considering these factors upfront, you can ensure that your app development project gets off to a strong start.
2. Ideation and design
At this part of the timeline, you begin to design how your app will look and function. The ideation and design stage can be exciting as you visualize your app for the first time and start to see it take shape. However, it is also important to be realistic in your designs and consider all the elements your app will need to include.
3. Development
Coding happens in the development stage. The length of this stage can vary depending on the complexity of the app and the size of the team working on it. However, most apps take several months to develop. During this time, the team will work to create a functional and user-friendly product that meets all the requirements.
4. Testing and bug fixing
After the coding and design phases are complete, it's time for testing and bug fixing. It's when the app is run on various devices and operating systems to ensure everything is working. This includes fixing any bugs or glitches before its launch.

5. Launch
The launch stage is when the app becomes available to the public. It's an exciting time for the development team as all their hard work finally comes to fruition. However, it is also a time of intense scrutiny, as users will quickly point out any bugs or deficiencies. With a little planning and preparation, you can ensure that your app launch goes off without a hitch!
A Quick Review of Top App Development Cost Calculator
App cost calculators are a dime a dozen these days, especially when you need to create a budget and project timeline. However, not all app cost calculators are created equal – some are more accurate than others, and some offer basic features only.
To give you an overview, here's a list of popular calculator apps that we find helpful in starting your development process:
1. Buildfire – Step-by-step calculator (website)
Buildfire is an interactive web app cost calculator that can provide a rough estimate in six steps! For tech entrepreneurs and start-up business owners, this tool is your pal when you're thinking about building a new software product.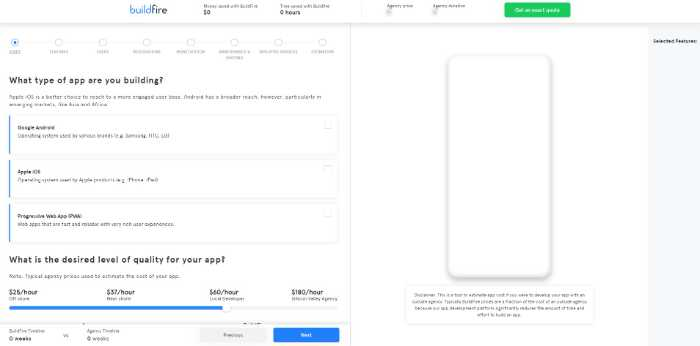 What makes Buildfire our favorite app cost calculator is that it will give you an estimated budget for setting up your app, developing it, and its monthly maintenance!
2. Estimate My App – Simple and easy to use (website)
The Estimate My App calculator is our pick for first-timers who want to build their app. Its simplistic and intuitive design will quickly give you a rough idea of the cost of your app. By simply clicking on the icons presented as a list, you will get the numbers you need to develop it and how many weeks it will take to finish it.
3. How Much To Make An App – Quick and short (website)
Get an estimated mobile app development cost in under a minute with the How Much To Make An App! Built by experienced mobile app developers, this app cost calculator will provide you with a ballpark budget by asking you eight questions.
4. VenturePact – Get offshore cost (website)
Are you looking into building your app with an offshore development team but don't know the cost? VenturePact is the app cost calculator to use. They will give you rough estimates of different geographies, such as in the U.S.A, Europe, and Asia!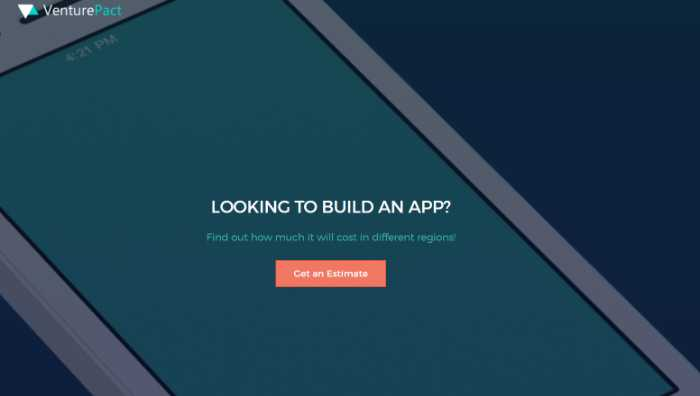 However, we recommend consulting with the offshore agency you want to work with to get an accurate estimation.
5. Digitalya – Know your spending limit (website)
Aside from providing estimated development costs, you will also know what price to negotiate with your prospective development team when you use Digitalya. Its 5-step cost estimation will give you the best- and the worst-case scenario of costs and hours of work in developing your app.
What we worry about is their short questionnaire. It may be too short to get an estimate when you want to include other features in your app.
Develop Your App with Us!
With technology constantly evolving and the rise in IT services costs, creating a mobile app can be daunting. So, how do we estimate app development costs?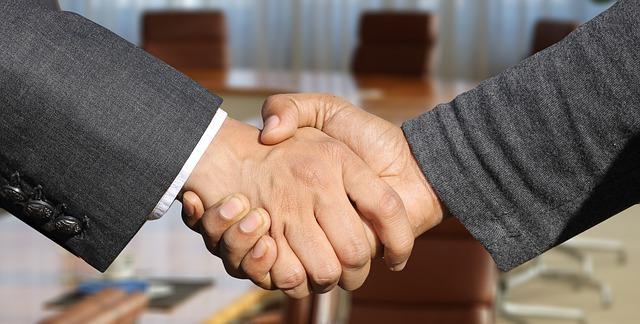 As an established app development company in Southeast Asia, we'll take you through the step-by-step development process to determine the amount of money needed. We develop applications according to the Agile methodology, a system development cycle composed of planning, designing, building, testing, and delivering the final product for our clients!
We have a team of experienced developers skilled in using the latest technology and adhering to the highest standards to build you a mobile app that will reach more audiences, raise return on investment, promote your brand, and boost user engagement (ROI).
Let's turn your app idea into reality. Book a free consultation today!
How much does developing an app cost?
The cost of developing an app depends on various factors, including the type of app you're developing, the platform you're targeting, and the features you want to include. If you book a consultation with us, we'll give you an accurate quotation to help you set a budget!
What is the process of developing an app?
The process of developing an app begins with an idea. Once you know what you want to develop, an app cost calculator may help you get an estimate. However, consulting with us will get you a development cost breakdown for your business plan.
How do you calculate app development time?
The development process depends on the complexity of the app and the size of the team working on it. Generally speaking, smaller apps that don't have many features will take less time to create than more complex apps. And, of course, a team of more people will take longer to complete the project than a team of fewer people.
Can I develop an app myself?
Yes, you can! there are many tools and platforms out there that will let you create the first version of your application with no code experience. If you already have experience in coding and app development, then, of course, you can go ahead by yourself, but keep in mind that a successful project heavily relies on the fact that you have a deep understanding of so many things (Design, server administration, backend, frontend, monitoring tools…etc). A one-man show. You may be able to develop it yourself and reduce the app development cost. However, if you're unfamiliar with all the processes, it's best to leave it to a team of experts like us.
How can I make sure my app is a success?
There's no guaranteed formula for making an app a success, but there are some things you can do to increase your chances. First, ensure you understand your target audience and what they want from your app. Second, create an app that solves a problem or fills a need. And finally, make sure your app is well-designed and easy to use.
If you have any other questions about developing an app and its development costs, feel free to contact us, and we'll be happy to help.