With how easy it is to create a website or an app today, people think they can do it successfully without professional help. However, this is often not the case. The success of your product depends on how well you understand your customers, and this is when an online user testing tool comes in handy.
Although testing your product before launch is nothing new, it can be costly and time-consuming to do everything by hand. Fortunately, a UI/UX design agency can handle the user testing for you.
But if you're working on your own, there are online user testing tools that can help streamline the process and give you valuable insights into how your users interact with your site or app. Of course, deciding on the right user testing tool depends on your needs and budget.
In this blog post, we'll go over what you need to know about online usability testing tools. We'll also provide a list of our top picks for the best user testing tools available.
Why Do You Need Usability Testing Tools?

At its core, user research is key to understanding how your target users think, feel, and behave. This allows you to build a product that they'll not only love but also be willing to pay for.
One Forrester report claims that a well-designed user interface could lead to a 200% increase in website conversions. It's why you should always pay attention to the importance of user testing, even if it's just for a low-fidelity prototype.
User testing can be conducted in various ways, but the most common method is to ask users to complete specific tasks while thinking aloud. This helps you understand their thought process and what they want as they interact with your product.
With that in mind, here are five reasons why you need usability testing tools:
1. Save Time and Money
Conducting user research the traditional way can be expensive and time-consuming. You have to recruit test participants, schedule testing sessions, and then transcribe or record everything that was said.
With online user testing tools, you can automate all of that. For example, UserTesting's on-demand usability testing platform lets you record and share videos of real people using your site or app. This is a huge time-saver, especially if you need to present your findings to stakeholders.

2. Identify Usability Issues Before the Launch
If you wait until after your product is launched to start usability tests, you're already too late. By then, it would be too expensive and time-consuming to make changes based on the user feedback you receive.
It's much better to identify any issues early on and address qualitative and quantitative feedback before the launch. That way, you can be sure that your product is as user-friendly as possible from day one.
3. Get Actionable Insights from Own Users
Prototype testing is one thing, but getting insights from real users is another. Without this development stage, you may base your assumptions on information that isn't accurate.
For example, you might think your users will want a certain feature, but when you ask them, they might say otherwise. By testing with real users, you can get honest feedback from the people who will be using your product.
4. Identify Areas of Improvement in Your Design
Redesigning a website or an app can be a daunting task. Not to mention, it's time-consuming that can cause delays. Working on your own or outsourcing software, it's easy to get stuck in a design rut, using the same layout and elements repeatedly.
Letting customers experience your product can help you see it from a different perspective. You might be surprised at the areas that need improvement, which you can then work on in your next design process.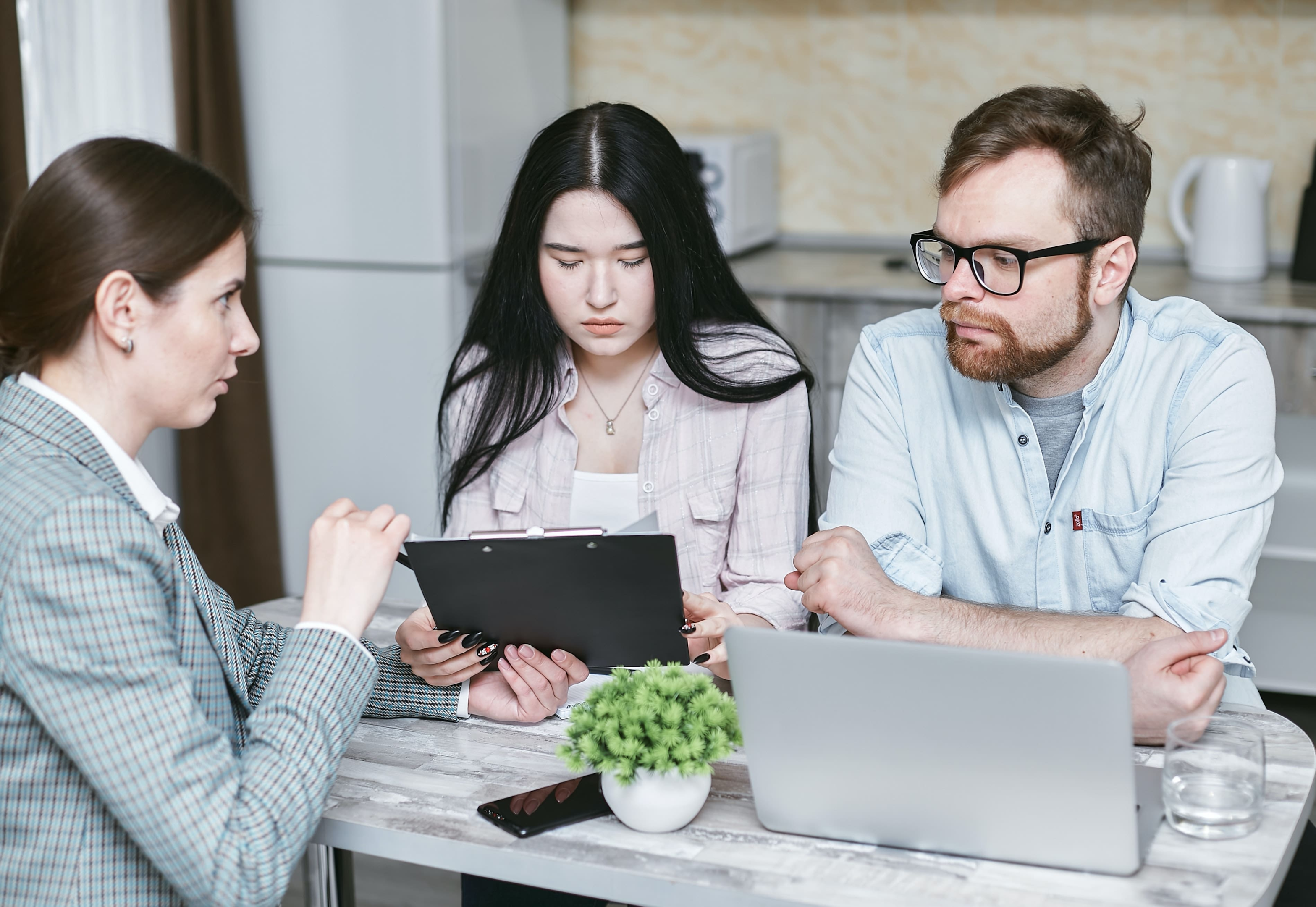 5. Clear Picture of Who Your Customers Are
If you're building a product from scratch, knowing the customer experience goals is especially important. What are your target users trying to achieve? What motivates them? Usability testing tools may help you answer these questions.
Online user testing tools can help you understand these things and provide a clear picture of who your customers are. With this information, you can make more informed decisions about your product design and development.
With these reasons in mind, it's clear that usability testing tools are a valuable addition to your design toolkit.
How to Choose a Type of Usability Testing Tool That's Right for You?
To create a product that people will love, you need to understand how they think, feel, and behave. A usability testing tool is the best way to do that.
But before anything else, you need to choose the right tool for your specific needs. Here are some factors to consider:
Type of product you're testing: Different products will require different types of usability testing tools. For example, if you're testing a mobile app, you'll need a tool to record screen activity and touch gestures.
The platform you're using: Do you need a tool that works with iOS, Android, or both?
Your budget: How much are you willing to spend on a usability testing tool?
The features you need: What type of features do you need from your usability testing tool? For example, do you need a tool that can track eye movement or facial expressions?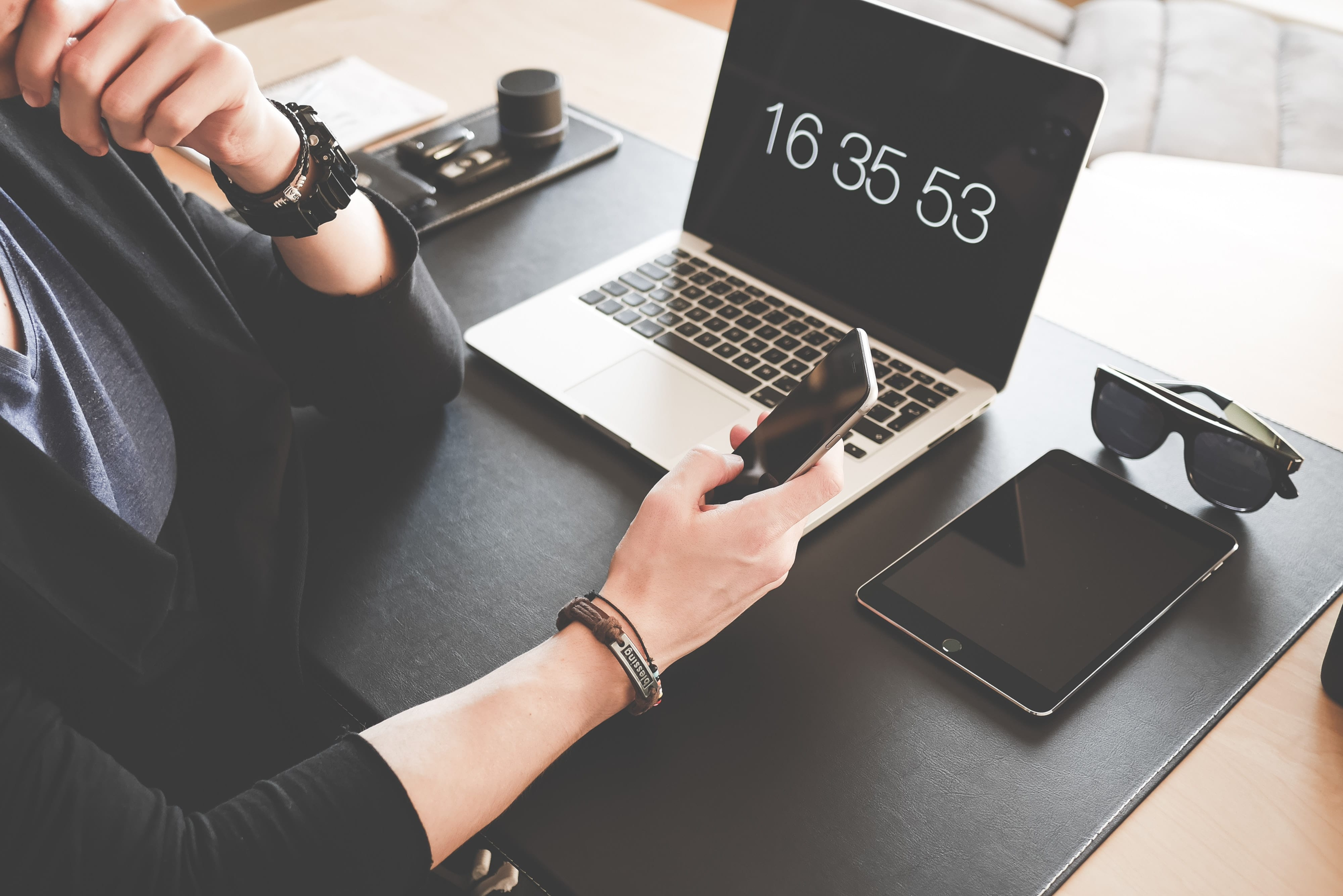 List them down and use that as your guideline when choosing a type of usability testing tool. Once you're done, take a look at the different types of tools available:
Qualitative or quantitative
Qualitative user research data is in the form of words and meaning, while quantitative research produces results through numbers and statistics.
Moderated or unmoderated user testing
Moderated testing is when a researcher is present during the test and can talk to or ask questions to the testers. Unmoderated usability testing, on the other hand, occurs without the presence of a researcher.
Remote or in-person
With remote usability testing, the researcher and test participants are in different locations. In contrast, with in-person testing, they're both in the same room.
Now that we've established that let's take a look at some of the popular usability testing tools available.
Top 5 Remote Usability Testing Tools
Testing tools are created to ensure that the customer experience is enjoyable. But with so many options on the market, it can take time to know the right usability testing tool that best fits your needs.
Well, look no further. Here are our top 5 picks:

1. UserTesting
UserTesting is one of the most popular user testing tools available. It's an all-in-one platform that lets you test websites, mobile apps, and in-app products.
We choose UserTesting as our top pick because it can deliver detailed results fast! You can also do different types of research, from moderated usability tests to tree tracing.
It also has multiple capabilities that you will appreciate, like highlight reels, transcription, recruiting capabilities, and more. Plus, plenty of templates are available to help you get started quickly and easily.
Pricing
UserTesting follows a flexible pricing model. You can choose from the following:
Essential
Advanced
Ultimate
However, if these paid plans don't work for you, you can request a custom quote from them. Learn how to do that here.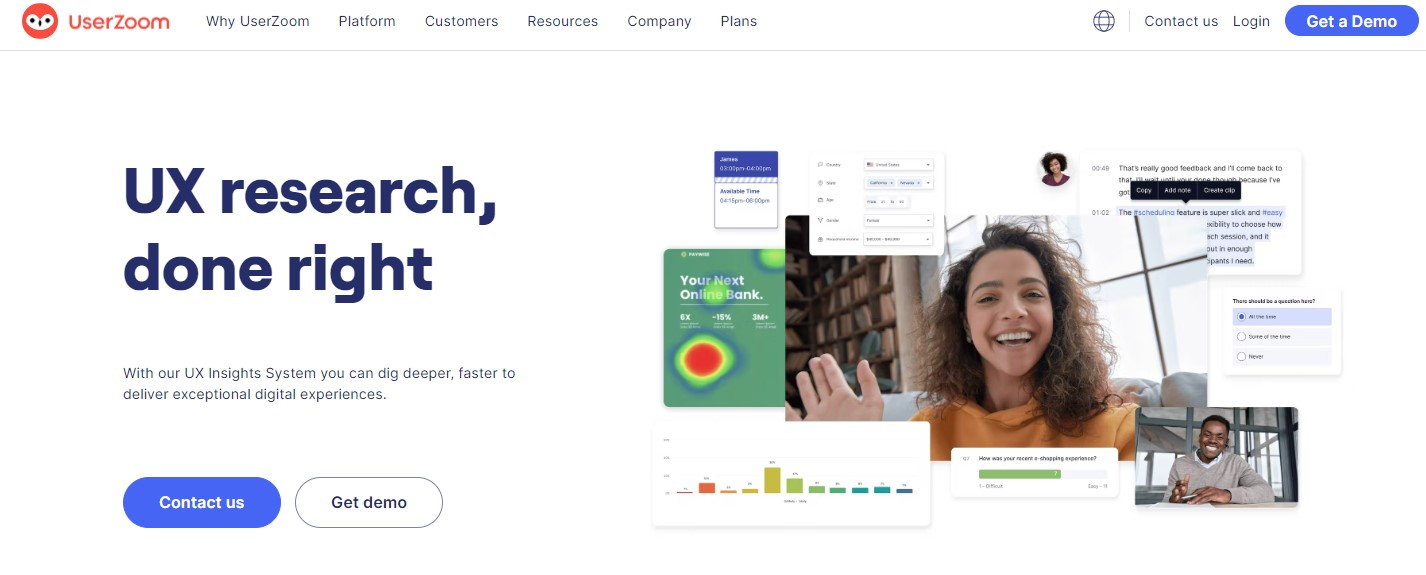 2. UserZoom
Remote usability testing is UserZoom's specialty. It's an all-in-one platform that covers everything from user experience to market research. It's perfect for those who want to get insights from their target market!
UserZoom is one of the best usability testing tools out there due to its wide range of features. Research repository and participant recruitment are just some of what this tool offers. You can also do tree testing, surveys, and interviews.
If you're looking for a tool that will give you actionable insights to improve customer experience, UserZoom is the way to go!
Pricing
UserZoom has two pricing of its usability test plans:
Quick Start plans
Enterprise plans
If you think that some of these plans need more features, you can get add-ons to supplement your needs! You can check the comparison of these plans here.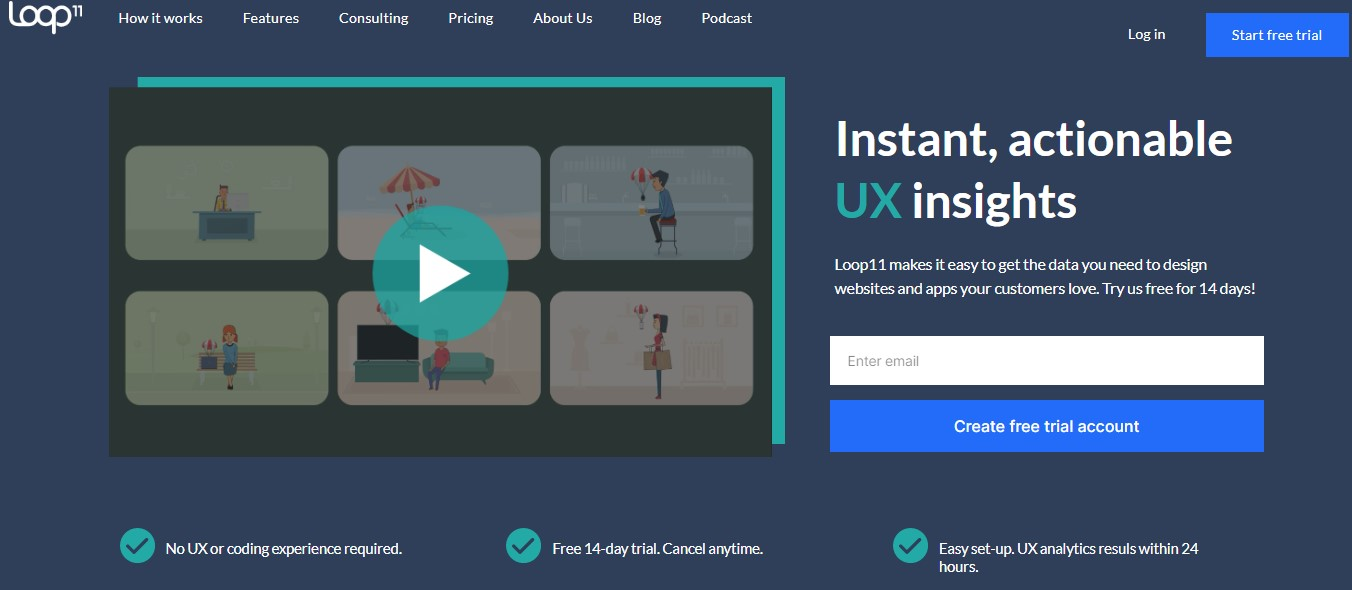 3. Loop11
The Australian-based company Loop11 is a great tool if you're looking for something that's easy to use and set up. It integrates with popular analytics software, making it a breeze to track and compare results.
It's also great for those who want to do moderated and unmoderated usability tests with structured frameworks on different methods. You can simply send a link to your testers, and they can complete the tasks in their own time!
We highly recommend using Loop11 if you want features such as a virtual observation room, heatmaps, clickstreams, and path analysis.
Pricing
Loop11 has a pretty straightforward pricing model. You can choose from the following:
Rapid Insights – $199 billed monthly
Pro – $399 billed monthly
Enterprise plan – $599 billed monthly
If you're not ready to commit to these plans, no problem! They offer a free version of their tool. Learn it here!

4. Maze
If you want to focus on prototype tests, Maze is the tool for you! It offers integrations with design tools like Figma, Adobe XD, and more.
Maze is our choice if we want quantitative insight in a breeze. They don't record their research studies, but they do collect user behavior analytics and package it into a report for you. And we know some would prefer session recordings. If you're one of them, you might consider this first.
Another thing we love about Maze is that you can get started with a free trial! This is perfect if you want to test out the tool before committing to a paid plan. And when you do, they give a generous list of features that you can use to produce a great customer experience!
Pricing
Maze has affordable plans that can match your needs! They have the following:
Professional – $99 per month
Organization – custom price
If you only need key features, you can talk to them and get a custom enterprise solution! Look at your options here.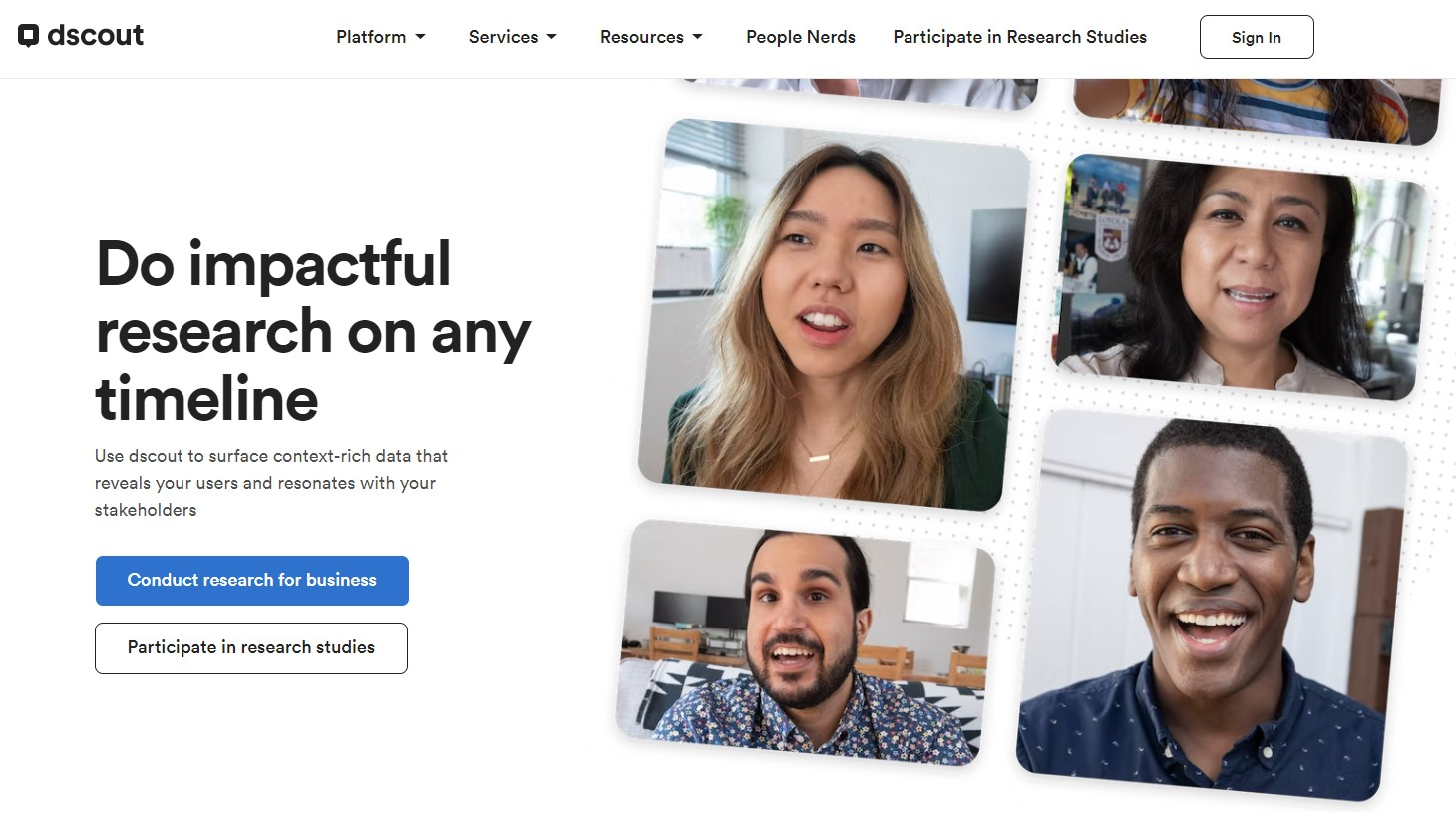 5. dscout
Collect user feedback in various ways with dscout. It started as a diary study tool, but it has since evolved into something much more. You can now use it for in-the-moment feedback, surveys, and even live user testing!
There are four types of research you can use: Live, Interviews (moderated tests), Express (quick usability tests), and Diary Studies. These various usability test selections are what we love about dscout! You can use the tool in different ways, depending on your needs.
You can get a free trial of dscout to try out its usability testing features. If you like it, you can sign up for one of their paid plans.
Pricing
Unfortunately, there are no exact rates for dscout's plans. You'll need to contact them for the quote. But you can see the full features that they offer in each subscription.
You can check them out here!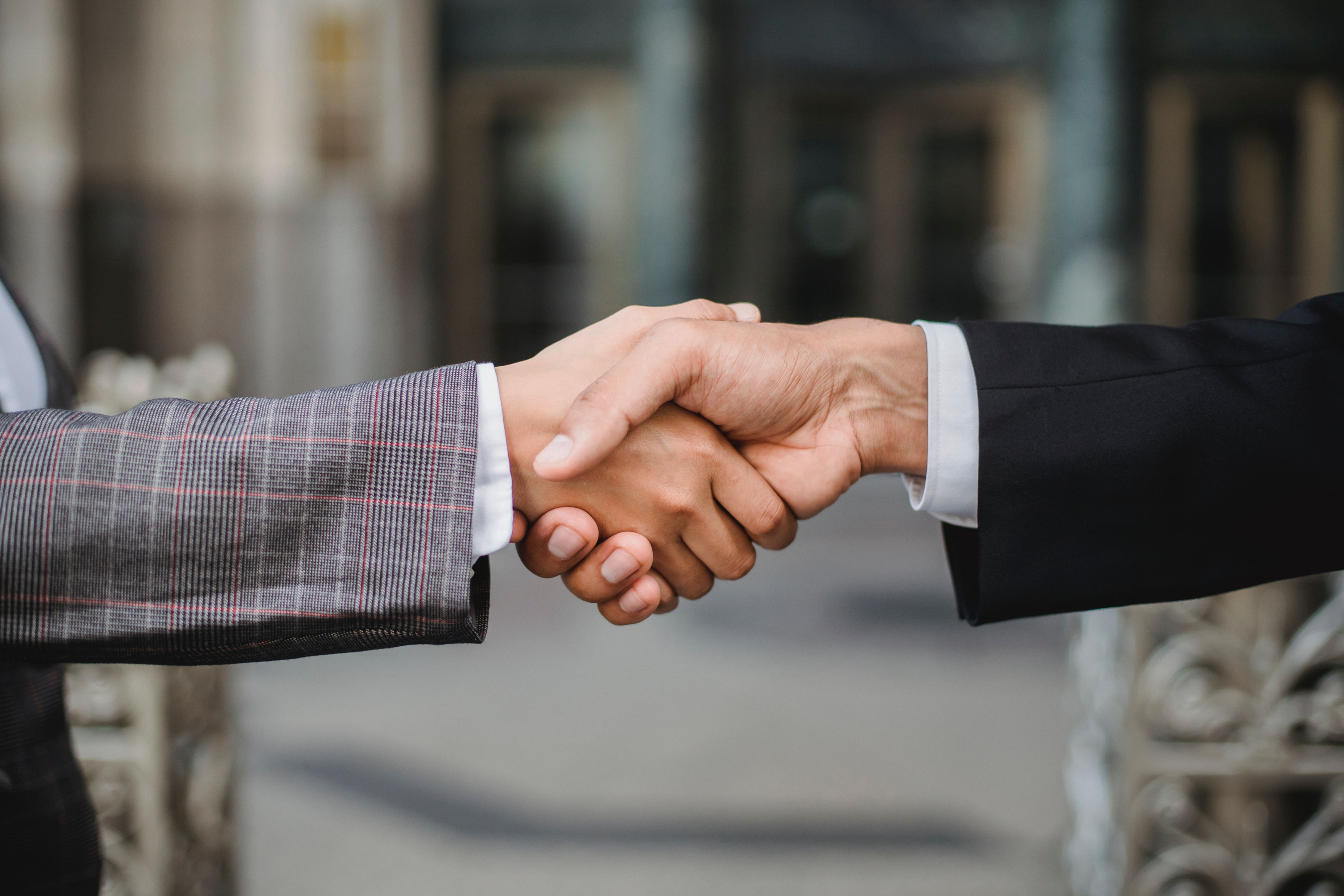 Get a Full UI/UX Design from Us!
With today's competitive business landscape, you want to stay caught up. Improving customer experience should be one of your top priorities.
That's where StarTechUP comes in! We offer full UI/UX design services that will take your business to the next level. Our team of experts will work with you to understand your goals and create a custom solution that meets your needs.
Get in touch with us today to learn more about what we can do for you!