The world of technology is changing. Automation and artificial intelligence (AI) technologies offer fresh employment possibilities and opportunities for economic development for both men and women. Still, they also raise new difficulties that are integrated over long-standing problems.
By 2030, between 40 million and 160 million women worldwide may require a career change, with many opting for higher-skilled work. In a world where tech is progressing at breakneck speed, the demand for more women in tech rises dramatically. To survive this upheaval, women need to be skilled, mobile, and technologically savvy in today's workplace. Also, they must be competent to progress in the world of technology.
Those who can use technology to invent innovative solutions to big and small difficulties will significantly impact the future of work. This article explores the challenges that face women in tech today and how they may shape the future of work tomorrow.
Women at higher risk
If women work primarily in high-risk sectors and occupations susceptible to automation, hard-won gains from initiatives to increase the number of ladies in the paid workforce and raise female pay to equal that of males might be quickly lost.
Women 40 years and above and those in administrative, customer service, and sales jobs are particularly at risk. Women with only a high school education are nearly twice as likely to risk losing their jobs to automation (54 percent versus 40 percent) than men. Women with a bachelor's degree or higher face a 1% risk.
Opportunities and challenges
Women are underrepresented in fields that are expanding their employment, such as engineering and information technology. Women are disproportionately represented among low-level, low-paid workers in the US economy at large.
Women in tech are 15% less likely than men to take leadership roles and 19% more likely to be clerks and service providers performing more routine tasks, leaving them vulnerable to technological replacement. There are some rays of hope.
Jobs in traditionally female-dominated areas such as health and social services–which require cognitive and interpersonal abilities and thus are less susceptible to automation–are likely to increase in advanced and developing economies, seeing rapid aging. Aging populations will require more human workers and more use of artificial intelligence and other cutting-edge technologies in healthcare to help complement and boost productivity in their services.
3 Keys to supporting women in the tech industry
There are three key things that technology companies can do to show their support for women leaders:
3 Ways to retain and support female in tech
Challenge them to complete tasks that will force them to learn and execute new skills
Connect them with mentors and sponsors who will offer feedback and assistance
Invest in them by providing formalised leadership development opportunities for women leaders focused on developing the leadership skills required to succeed in your company
What keeps women in technology?
According to research, women who stay in STEM (science, technology, engineering, and mathematics) fields and rise to the top of the tech business have high self-efficacy, are enthusiastic about their job, have positive workplace support, are loyal to their team, and others, and develop strong personal, professional networks.
If you take enthusiastic individuals about their work, give them challenging tasks and the support they need, and enable strong networks, it would seem that they will succeed. However, the majority of women in tech still leave the sector. Women in technology have been fighting to be recognised for decades, but the shift has yet to begin.
Companies have spent decades attempting to assist women in tech by tackling their high turnover rates, but it hasn't worked yet. What's going on? What do women in the profession need to stay and thrive? What is it that companies must do to retain these intelligent females in the sector?
Advancing women in technology through mentoring: What can companies do?
There's a lot more companies can do to demonstrate their commitment to women in tech. They can begin by creating a more inclusive corporate culture and attempting to preserve women leaders.
Create a more diverse culture
There's more that companies can do to support women in the technology sector. First, companies can carefully review and update their diversity and inclusion efforts to focus first on equity.
They can educate everyone about unconscious bias – unintentionally harmful practices and behaviors that appear to be unbiased but harmful to marginalised groups. They can have difficult conversations with their employees about changing the corporate culture to be more inclusive, equitable, and diverse.
What Women in Tech Can Do Themselves
While the tech sector is starting to pay more attention to assisting females in tech, women who want to succeed in the field and rise to leadership roles should also focus on what they can do themselves to avoid mid-career stalls. Women in STEM who want to rise to higher leadership roles should concentrate on the following.
Here's how to get started with each:
Know your self-worth
Men and women frequently think about their preparedness for new chances in many diversity. Top women tech leaders are enthusiastic about what their companies, teams, and individuals accomplish.
Women in leadership positions in the technology sector should recognise their worth and be clear about their objectives. A woman in tech should figure out what she contributes to her job, team, and organisation. To others, be able to express your value and passion, and ambitions. This is an essential phase in developing yourself.
Find creative ways to grow
To develop professionally, women in tech need to learn new skills and mingle with talented people. Challenging stretch assignments offer more excellent chances to acquire new skills. Extra responsibilities, such as making presentations on behalf of the firm at a conference or serving on an industry technical standards committee, can lead to greater career opportunities.
Women engineers must also ensure that they are successful with these chances and get credit for them. Finding someone who can provide advice differently and help you advocate yourself as you perform them might be a better option.
You'll also want to obtain honest feedback from colleagues you can trust. Some women may believe that asking for assistance reveals flaws that will harm their chances of advancement. Some women find it difficult to silence their internal thoughts and ensure that they get the assistance they require to succeed, especially if their dreams are not shared with others.
Build a network with sponsors
While networking is widely seen as essential for career advancement, creating a network of champions, including mentors and sponsors, is especially important for women in the tech sector. A sponsor is not another individual in your network; it's someone with the authority and experience to recommend you.
Also, women in tech should not forget the potential to assist other women in tech. After all, women need to help themselves. At many large, well-known technology firms, one woman started an internal women's resource group or mentoring program, which has since evolved into a big, more formalised program supporting women in tech.
What does the future of work hold for women in technology?
In the United States, only 26.7% of all women are engineers, with just 10% designated as IT executives. Even though there has been a significant increase in the number of women working in IT occupations during the previous ten years, females are still severely under-represented in the tech sector.
However, a few years ago, there was a tremendous effort from Tech companies to recruit more women and propose more females to break into what has long been viewed as a male-dominated sector scandalised by claims of sexism.
Enhanced pay rates to close the gender gap
Since it is a new industry, the tech sector is more progressive than other industries. Within the tech sector, the gender earnings gap is smaller than it is in other, more traditional old-school business sectors. On the bright side, many major tech companies are aggressively working to close the gender pay gap and now offer equal salaries for jobs regardless of gender.
More potential for development
There are more possibilities open to women now that tech businesses are waking up and seeing women's benefits in the tech industry, whether women in tech are looking to advance their current job in IT for long-term professional development or studying other parts of computing and engineering tech during their school years to pursue available apprenticeships and acquire degrees in these areas.
Funding for education
To meet the growing need for technological experts, the government has provided additional resources in its yearly budget to promote AI development, computer literacy, and technology.
The funding will also cover the money needed for math education, computer sciences, and working with industry and trade unions to develop and roll out a national retraining scheme that provides more learning opportunities in science, technology, and mathematics skills.
Parents, instructors at all levels of education and training, and employers are being urged to make sure that young girls enroll in school and pursue computer science and engineering studies so that more women may join the computer science field.
It is expected that there will be many more female role models who may encourage and inspire young girls to enter the tech industry with time.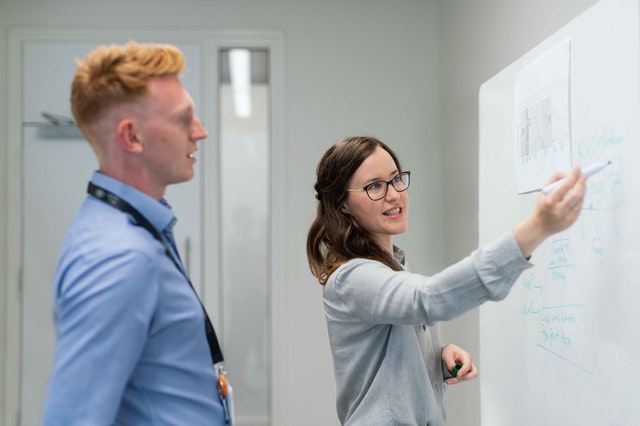 The benefits of employing women in technology
Increasing the rate of females working in the IT sector, according to economists, would increase US revenue by about $3.5 billion each year.
This is especially true when it comes to dealing with current tech skill shortages. Women can bring value to tech positions, including improved communication abilities, more cooperation in the industry, and high team morale.
However, many large tech companies have committed to enhancing recruiting, training, and retention rates for women in tech roles despite significant progress.
Investing in developing female technology
Investment in female-related tech remains a challenge, as with any new tech requiring development and research investment.
Unfortunately, applying for investment funding might still be difficult due to cultural barriers. Investors are still questioning many female tech entrepreneurs why they focus on such a small, lucrative market.
What the investors overlook, though, is that women make up 50% of the population, so developing tech targeted towards women is considered a small market.
However, attitudes are changing, and it is hoped that progress will be made when cracking the tech industry, where women will drive growth and innovation.
The future of work is authentic for women in tech
When employees feel comfortable bringing their entire selves to work, good things happen. According to research, feeling genuine at work improves engagement, job satisfaction, and performance. However, bringing their entire selves to work is challenging for women in tech, especially when they are subjected to sexist comments or get attention for things like their appearance.
Women's lives are enhanced by authenticity—the healthy alignment of values and actions. Authenticity was identified as one of the five key themes influencing women's careers and life choices in one research. As time passes, women in technology will consciously create their lives around their top priorities, including being genuine to themselves.
The Dawn of A New Future
The battle for eliminating gender biases will be long but not impossible, as women in technology confront the challenges ahead.
Institutions must utilise teaching approaches that will entice girls to learn about tech at the educational level. The institutions must also educate girls about women who have made a significant contribution to the growth of tech so that they may be inspired to learn more.
There must be a push for awareness at the organisational level about the need for gender-equal models. Women would feel more comfortable in a gender-inclusive environment since they could recognise their talents and assume responsibilities. Recognizing females' input would also encourage more women to pursue careers in technology.
Conclusion
Women should be optimistic about the future of technology and its ability to improve people's lives. A more diverse and technologically savvy workforce will be a net positive for both business and society. Women must not only focus on applied intelligence and digital transformation, but they must also continue to emphasize diversity and inclusion.