Did you know that software and SaaS are both growing at a breakneck pace, increasing from 9.8% in 2022 to 11.8 percent in 2023? With the rising trends in SaaS products, application development companies expect a big market boom. And you should take advantage of that!
As an entrepreneur, you need to stay on top of the latest trends to ensure your business is as successful as possible. This is especially true when it comes to developing software applications. After all, if you're not using the latest and greatest tools, your competition will be.
To get started, this blog will give you all the information you need about the SaaS market and promising SaaS trending ideas you can explore. Let's get on to it!
Why SaaS Startups are so Popular Today?
With its rising popularity over the years, Software as a Service (SaaS) is a type of subscription software that allows users to access and use the app from a remote location. Compared to traditional software, the SaaS business model is more affordable and easier to use.
SaaS software is not a newcomer to world technology as they are now widely embraced, especially for small and medium businesses. Some common SaaS providers are BigCommerce, Google Workspaces, Salesforce, and Dropbox. These companies ensure databases, servers, and software run smoothly over time so that subscribed members can continuously use the services.
Startups are increasingly seen in the SaaS industry! Let's look at why this is a top pick for startup ideas:
Lower costs
One of the main reasons why startup companies enter the SaaS market is cheap costs. These products mainly focus on software development, so you don't have to pay for expensive hardware. All you need is a decent internet connection to start using the software.

Additionally, you can reach out to SaaS companies so you don't have to spend time and money on customer support or maintenance. The provider does these services so that you can focus on other aspects of your business.
Recurring revenue
Using SaaS business models can create a highly lucrative and incredibly fast-growing business. As a SaaS solution provider, you'll benefit from recurring income, which will provide your company with long-term stability.
While it sounds enticing, you should expect to have more upfront costs than traditional SaaS systems, higher maintenance costs, and competitive competitors.
Global access
SaaS businesses have a wide range of potential and have a high demand. Businesses can access SaaS apps anywhere they want, making mobile applications particularly useful.
With cloud software in SaaS, it easily provides more flexibility. If your users or clients want to move data, they can do so quickly without any hassle.

Scalability
One of the great advantages of SaaS solutions for enterprises is that they can expand rapidly because the architecture is scalable. With other startups, it's more difficult to upgrade than it is to scale.
SaaS solutions can be quickly integrated into business processes and quickly scaled up or down according to needs.
Easy maintenance
Software as a service is based on the premise of delivering software over the internet. From there, troubleshooting and maintaining a SaaS product is much easier for both the provider and the user.
Conversely, traditional software requires significant downtime due to application upgrades. With SaaS solutions, clients benefit from upgrading and introducing new features over time.
As the provider, you don't have to send CDs or updates through the mail. You also don't have to worry about users not updating their software and ending up with security vulnerabilities!
Easy to Market
Since they're easy to develop and deploy, it leaves you more time to market your SaaS app. The fast-paced nature of the internet today works in your favor as you can quickly get your product out there without too much delay.
The competition, however, is something that we cannot predict. What may work is to cater to a specific audience and tailor a SaaS product that solves niche problems. Hence, it's what they call micro-SaaS.
What are the Current Trends in the SaaS Industry?
The trends in the SaaS industry are mainly focused on making applications more intuitive and easier to use. The trend is also shifting towards developing more mobile applications as people are using their smartphones more frequently.
Some of the current trends in SaaS application development include:
1. The rise of artificial intelligence (AI) and big data
Artificial Intelligence is being used more and more in SaaS software these days. This trend is being driven by the fact that AI development can help make apps more user-friendly and carnage predictive analytics to prevent issues before they happen. Additionally, AI can be used to automatically generate reports and perform other tasks that would traditionally be done by humans.
SaaS companies have used it to automate tasks, such as customer support or data entry. Additionally, AI can provide personalized recommendations or suggestions to users. For example, a SaaS application could use AI to suggest products or services that might interest a particular user based on their past behavior.
2. Increasing focus on user experience and design
Software development is increasing the focus on mobile-friendliness. With more and more people using smartphones and tablets to access the internet, it's important for SaaS software to be designed with these devices in mind. This means creating apps responsive to different screen sizes and offering a great user experience on mobile devices.
One breakthrough was the introduction of Material Design by Google. This design language provides guidelines for creating beautiful and intuitive user interfaces. As a result, we're seeing more SaaS products that follow these guidelines and offer a great user experience on all devices.
3. Integrating with third-party platforms and services
Another trend we're seeing is the integration of SaaS products with third-party platforms and services. This allows users to access all the features and data they need in one place. For example, a SaaS customer relationship management (CRM) system might integrate with an accounting platform like QuickBooks.
This trend is being driven by the need for better data analysis and decision-making. By integrating with other platforms, SaaS-based apps can collect more data and provide users with more insights.
4. Cloud-based
One of the biggest trends in the SaaS platform is the move to cloud-based solutions. Cloud-based applications are those that are hosted on a remote server and accessed over the internet.
These days, more and more SaaS businesses are moving to the cloud. Why? Cloud-based applications are much more scalable and reliable than traditional on-premise applications. They're also easier and cheaper to maintain. As a result, it's no surprise that the majority of new SaaS applications are being developed for the cloud.
5. Moving away from monolithic applications toward microservices

Microservices are a new architecture trend that's gaining popularity in the world of software vendors. In the micro-SaaS model, an application is divided into small, independent services that can be developed, deployed, and scaled independently.
With a focused SaaS solution, businesses get a number of advantages, including improved resilience, better scalability, and reduced complexity. Additionally, this approach makes it easier to add new features and functionality without impacting the rest of the application.
The move towards a micro-SaaS business will definitely change how we live with technology.
What is Micro-SaaS?
Micro-SaaS is a software-as-a-service business model that focuses on solving a specific problem for a niche audience. The target market is smaller than regular SaaS, but the solution must be 10x better to compensate for the smaller customer base.
As a result, many micro-SaaS companies are born out of necessity. The founders or team identify a problem in their industry and create a solution they would want to use themselves. Micro-SaaS has been called the future of lifestyle software businesses by some because they are location independent, have recurring revenue, and hopefully low churn.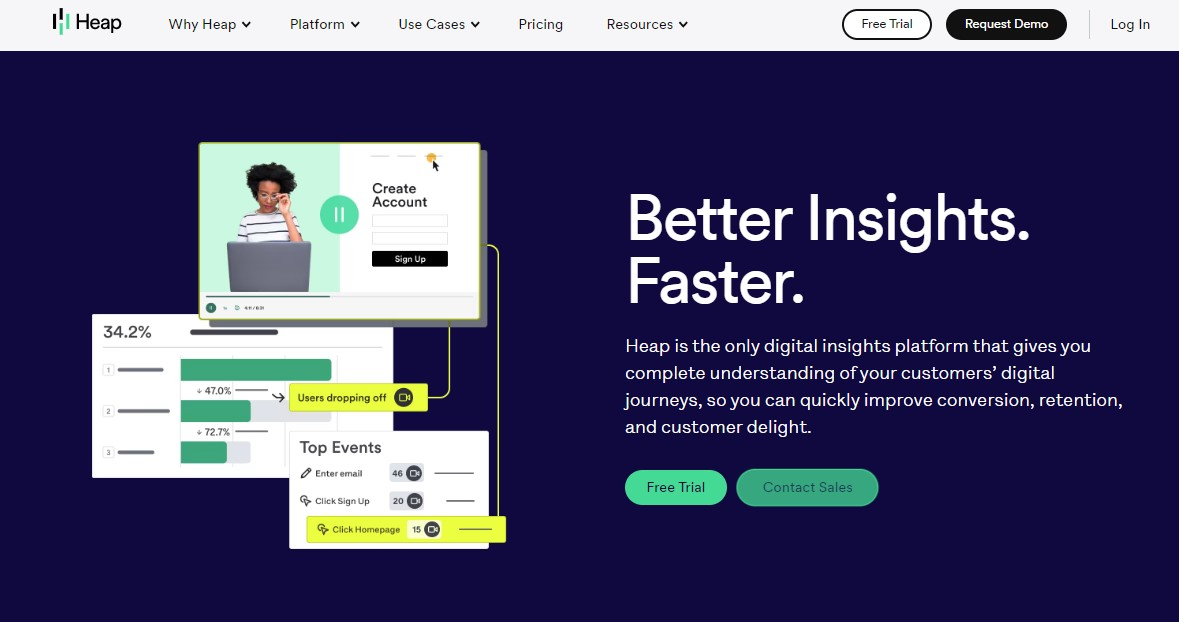 The benefit of this business model is that it's easier to get started, and there's less competition. However, this means that the company will have to work harder to get noticed and scale its business.
Some well-known examples of micro-SaaS companies are Mixpanel, Heap Analytics, and Wistia.
8 Micro-SaaS Startup Ideas You Should Try in 2023 and Beyond
With several SaaS products in the market today, it's difficult to stand out from the crowd. From Shopify to Asana, you might think that all SaaS product ideas have been created. But don't fret—there's still room for new micro-SaaS startups.
Hence, we give you micro-SaaS product ideas!
1. Social Media Analytics Platform
Datareportal July 2022 global overview reports that 59% of the world uses social media. Users also spend an average of close to 2 hours and 29 minutes per day. According to these latest figures, people spend approximately 15 percent of their time on social media–that is if we assume that people sleep for between 7 and 8 hours per day.
That is why a social media management app is a great way for SaaS businesses to get a cost-efficient promotion by interacting with the audience. This field produces many profitable SaaS ideas.
2. Content Planning Platform
The time-consuming process of content planning production generates higher demand for SaaS products that can assist. Content planning solutions provide a platform for creating, planning, and analyzing content as well as research, optimization, and distribution capabilities to marketers.
Such software is beneficial to small businesses and content marketing agencies that want to focus on developing quality content rather than managing the process.
3. Customer Relationship Management (CRM) for Freelancers
The goal of CRM software is to allow business users to automate time-consuming activities, produce sales reports, forecast revenues, and process improvements over time. Using this software, businesses can communicate with customers and store customer information in a central location.
Popular CRMs include Salesforce, Zoho, monday.com, Oracle, and Zendesk. To understand their connector methods, you can research them or explore Cyclr's Connector Library.
4. Objectives and Key Results (OKR) Tracker
OKR tracking solutions keep everybody in a company on the same page with shared objectives. It does this by providing reports and enabling users to view progress on dashboards, making tracking results visible and measurable.
This is a relatively newer SaaS app, allowing new businesses to join this market. If you think this is a lucrative opportunity, you can develop an OKR tracker.
5. Rental Property Management Platform
Another micro-SaaS idea you can hop onto is creating a platform for businesses in the rental property industry. This software would enable landlords and property managers to keep track of their portfolios, automate tasks, and communicate with tenants.
This is a great solution for small businesses that want to save time and money managing their properties. For instance, it would automate rent collection and maintenance requests.
6. Customer Review Tracker
Customer reviews are a powerful way to improve any product or service. According to a 2020 survey of Trustpilot, nine out of ten (89%) of consumers read online customer feedback before making a purchase.
This means that if you're not monitoring your customer reviews, you're missing out on valuable feedback. A customer review tracker can help businesses stay on top of all the reviews about their product or service. This is the simplest and most effective way to manage your business's online reviews.
7. Employee Engagement Platform
Employee engagement tools are not only linked with improved company culture, but they can also improve human resource management and help business owners get to know their employees better.
For example, the team communication software Slack can be used to create channels for different departments, projects, or teams. This way, employees can easily communicate with each other and stay updated on the latest news.
8. Interview Tracking System for Candidates
Appointment management meetings, telephone calls, and in-person interviews can be stressful for both the interviewer and the interviewee. This is where an interview tracking system comes in, which can automate and manage the entire process.
With advances in machine learning technology, this software would be beneficial to human resources departments, staffing agencies, and businesses with a large number of employees. It would streamline the interview process and make it more efficient.
How do you Build Your Micro-SaaS Business Ideas?
Having micro-SaaS ideas are just the beginning. The real challenge is turning them into successful businesses.
While there are SaaS firms to help you get off the ground, there are no-code development platforms that make it possible for you to develop your micro-SaaS business on your own.
But before you do anything else, you need to validate your ideas first. Here's a rough guide on how you create your micro-SaaS idea:
1. Gather your ideas
Before you think about digital marketing strategies, you have to be clear about your ideas first. What do you wish to accomplish? Do you want to dominate the accounts payable market? Or the rental property industry?
Come up with a list of ideas. Give them a name and a brief description. In this way, you'll have a foundation to work on.
2. Research your ideas and target market
The best saas product ideas come from a deep understanding of the problem you're solving. Once you have your list of ideas, it's time to research each one.
Who is your target market? What are their needs and wants? How can you address them? You need to have a clear understanding of your target market before you can move on to the next step.
3. Get feedback, data, and market information
To attain a successful business, you have to think about your customers. Thus, you have to hear their voice.
One way to do this is to create a survey and ask your target market about their thoughts on your idea. You can also use social media to get all the data you need to identify the needs of your target market.
4. Create a prototype or minimum viable product (MVP)
After you've gathered enough feedback, it's time to create a prototype or MVP of your product. When creating your MVP, apply what you've gathered in the previous steps to validate your idea.
Once it has been created, it's time to test it in the SaaS market. This is the only way to know if your product is something that people will actually use.
5. Launch your SaaS product idea
It's finally time to introduce your product to the public and see how they react. Remember, you need to have a solid marketing strategy in place to ensure that the right people see your product.
You can use various marketing channels such as content marketing, social media marketing, and search engine optimization to reach your target market. You can also use paid advertising to give your product a boost.
6. Formulate a subscription plan
To establish your SaaS company, you need to generate revenue. The most common way to do this is through a subscription plan.
When creating your subscription plan, make sure to offer pricing models so that you can cater to different types of customers. You can also offer a free trial to entice people to try your SaaS platform.
7. Build your fanbase and create a loyal following
The key to a successful SaaS startup is to have a loyal and engaged customer base. To achieve this, you need to grow your continuous audience and subscriber list.
The best way to do this is by providing value to your customers. This can be in the form of quality content, helpful resources, or valuable tools. You can also offer loyalty programs and discounts to encourage people to stay with your SaaS product.
8. Automate your operations
As much as possible, you should automate your operations to focus on more important tasks. Consider customer support and marketing automation because they can free up a lot of your time.
Various software solutions can help you automate different processes in your business. For customer support, you can use a live chat tool. For marketing campaigns, you can use an email marketing tool.

9. Scale your business
The final step is to scale your business. This means expanding your team, increasing your marketing budget, and adding new SaaS tools to your product.
You should only scale your business if you're confident that your product is ready for the next level. Make sure that you have the necessary systems and processes in place before you take this step.
10. Evaluate your progress
After you've launched your product, it's important to track your progress and evaluate your results. This will help you determine what's working and what's not.
The best way to do this is to set up KPIs or key performance indicators. This way, you can track your progress and make the necessary changes to improve your results.
These 10 steps will help you validate and launch your SaaS business ideas. Just always remember to put your customer's needs first and to provide value at every step.
To lead a niche market, many specialists say you need to be five times better than the competition. You can't be successful in any business unless you take the time to understand your target audience. You also have to enjoy what you're doing. Otherwise, it'll never work out.
Let's Build Your SaaS Startup Idea!
The best micro-SaaS applications today are not built on a whim. The creators of these businesses spent significant time understanding their target market, their needs, and how to solve those needs better than anyone else in the space.
If you think you have great SaaS startup ideas, let StarTechUP help build that for you!
As a full-service software development company, we offer a wide range of software-as-a-service (SaaS) solutions to help your business run more efficiently. From CRM systems to accounting software, we have SaaS services that will fit your needs.
With the increased popularity of SaaS startups, now is the time to create yours. Contact us to get started today!